Client ︎ Unlikely
Type︎︎︎ Publication; Web Design
Year ︎︎︎ 2021
Art & Herbarium – Art & Herbarium – Art & Herbarium – Art & Herbarium – Art & Herbarium –
How can we reimagine e-publication formats beyond non-responsive PDF's?
What does the future look like for digital publishing?
These questions were asked when I was tasked to digitally reinterpret Unlikely's
Art & Herbarium
(print) exhibition catalogue. We wanted to push the boundaries of digital publications; to go beyond simply exporting non-responsive pdf's with layouts that were designed for print.
Due to the multiple media formats of this exhibition, we needed a digital publication that could support audio and potentially video formats playable within the "document" itself.
We explored using a microsite as a potential format for the e-publication. This led to the production of a web prototype that supported audio and video formats including text to speeach capabilities and alt text/image descriptions to make the publication accessible to a wider audience.
CREDITS
Editors:
Tom Bristow; Jan Hendrik Brueggemeier and Danielle Wyatt

Works & Content:
Tom Bristow; Elizabeth Hickey; Bonny Cassidy; Rosalind Hall; Josh Wodak; Harry Nankin & Jess Hood.

Typefaces/Glyphs:
❋ Fleuron by @mickaelemile @yvesgabrielso
❋ Neue Haas Grotesk
❋ IM Fell French Canon Italic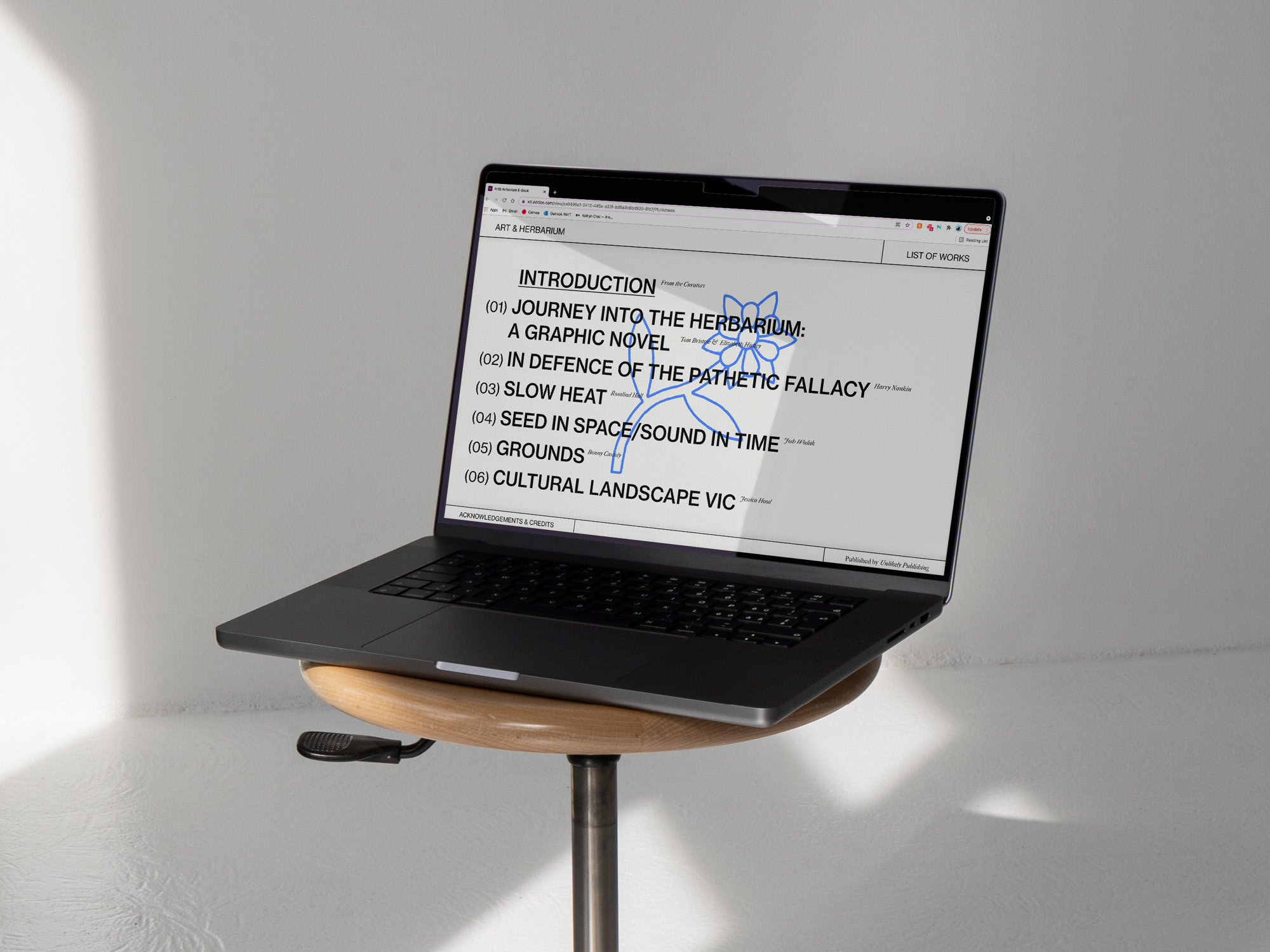 FINAL FORM
Interactive PDF & EPUB
As the work progressed, we decided on an offline version for the digital catalogue, utilising interactive capabilities on PDF and EPUB formats.
To
view and download︎︎︎
full publication, it's published on Unlikely E-books.